Winning Writers Announces the Winners of the Fifth Annual North Street Book Prize for Self-Published Books
J.R. Weber of Ewa Beach, Hawaii won the Grand Prize and $3,000 in the fifth annual North Street competition for self-published books, sponsored by Winning Writers and co-sponsored by BookBaby and Carolyn Howard-Johnson. Weber's verse-drama, Lay of the Land, combines an ambitious hybrid literary form with meticulous research and heroic imagery to re-create the doomed Mdewakanton Sioux uprising in 1862 against European immigrant farmers who colonized their
Six category winners each received $1,000, a marketing analysis and one-hour phone consultation with Carolyn Howard-Johnson, a $300 credit at BookBaby, and one free ad in the Winning Writers newsletter (a $175 value).
Jeanette Stickel of Mendocino, California won First Prize in the Children's Picture Book category for Mama's Needle, a gentle tribute to an African-American mother's imaginative artistry expressed through quilting.
Dmitri Jackson of Ballwin, Missouri won First Prize in Graphic Narrative for Blackwax Boulevard, which collects the first five years of his funny and poignant webcomic about a struggling inner-city record store and the misfits who call it home.
Katy McKinney of Trout Lake, Washington won First Prize in Poetry for Fireproofing the Woods, a lyrical and environmentally conscious collection that connects the fragility of our marvelous planet to her beloved sister's death from cancer.
Li Mo of Cambridge, Massachusetts won First Prize in Creative Nonfiction for Spirit Bridges, an imagistic memoir that depicts a childhood indelibly marked by the 1949 fall of Shanghai to the Communists, her coming of age in the American counterculture of the 1960s-70s, and a midlife re-integration of herself through the visual and performing arts.
Suanne Laqueur of Somers, New York won First Prize in Genre Fiction for An Exaltation of Larks, an ambitious family saga spanning world events from the 1973 CIA-backed coup in Chile to the aftermath of September 11, 2001.
Bob Sylva of Sacramento, California won First Prize in Literary Fiction for The King of Karaoke, a magical-realism-tinged story collection that celebrates the resilience and creativity of his city's diverse working class.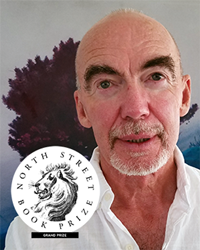 For a limited time, Grand Prize winner J.R. Weber is making his book, Lay of the Land, available to download for free from Winning Writers.
MORE ABOUT THE BLOGGER
Howard-Johnson is the multi award-wining author of fiction, creative nonfiction, and poetry. She is also a marketing consultant, editor, and author of the multi award-winning HowToDoItFrugally Series of books for writers including the multi award-winning The Frugal Book Promoter (http://bit.ly/FrugalBookPromoIII), now offered by Modern History Press in its third edition. Carolyn's latest is in the #HowToDoItFrugally Series of books for writers is How to Get Great Book Reviews Frugally and Ethically. Learn more on her Amazon profile page (http://bit.ly/CarolynsAmznProfile). Great Little Last Minute Editing Tips for Writers (http://bit.ly/Last-MinuteEditing) is one of her booklets--perfect for inexpensive gift giving--and, another booklet, The Great First Impression Book Proposal (http://bit.ly/BookProposalsII) helps writers who want to be traditionally published. The Frugal Editor (http://bit.ly/FrugalEditor), now in its second edition, is the winningest book in the series. Carolyn also has three frugal books for retailers including one she encourages authors to read because it will help them convince retailers to host their workshops, presentations, and signings. It is A Retailer's Guide to Frugal In-Store Promotions: How To Increase Profits and Spit in the Eyes of Economic Downturns with Thrifty Events and Sales Techniques (http://bit.ly/RetailersGuide). In addition to this blog, Carolyn helps writers extend the exposure of their favorite reviews at TheNewBookReview.blogspot.com. She also blogs at all things editing--grammar, formatting and more--at The Frugal, Smart, and Tuned-In Editor (http://TheFrugalEditor.blogspot.com)