Many of your know I am not crazy about paid-for ads when authors can learn to do so much "advertising" for themselves, but something like this one from WinningWriters.com is very effective on two counts. That website is well respected and well-known and their audience is "my" audience. That is, the advertising is well targeted! Of course, offering a discount or special promotion doesn't hurt. (Thanks to my publisher Modern History Press for this one!)
The winningest book in the multi award-winning HowToDoItFrugally series
The Frugal Editor: Third Edition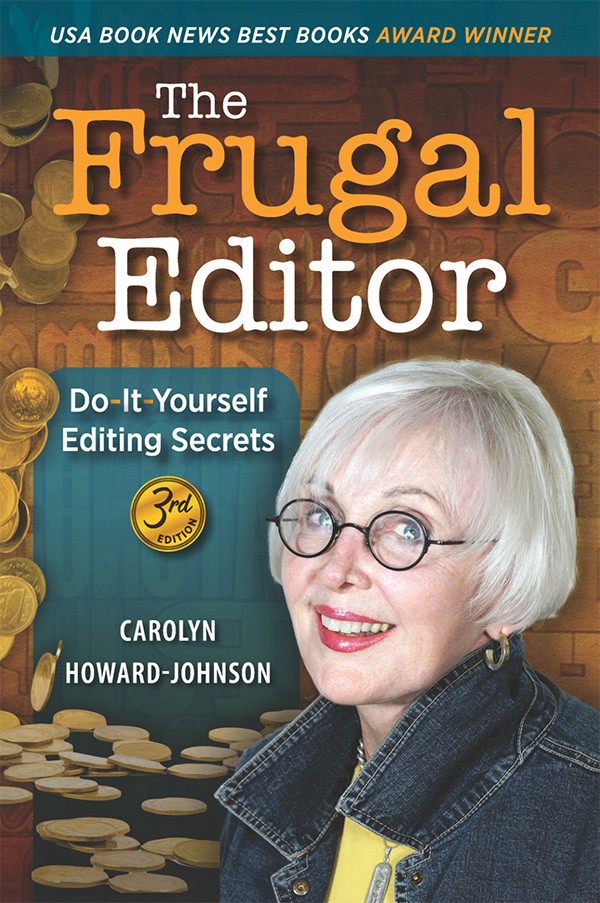 Do-It-Yourself Editing Secrets
Whether your publisher assigns zero dollars to your book's campaign or thousands or you do it yourself,
The Frugal Editor
assures your unpublished book the best possible start in life. Carolyn Howard-Johnson, a former publicist and a marketing and editing instructor for UCLA's renowned Writers' Program, provides what you need to snag the most suitable agent or publisher for your baby or proudly present it to the world as an example of indie publishing at its best.
Here is a smattering of what's new in the third edition:
Beta readers and peer reviewers
What you probably don't know about custom dictionaries
Up-to-date rules for accommodating gender-specific and other cultural needs
A chapter for word-lovers and poets
Quickie reviews of word processors
What front and back matter can do for your book sales, your career, and your readers
Considerations around sensitive language that have evolved greatly over recent years
How to spot publishing scams
Kindle Edition
The Frugal Editor
Whether you are a new or experienced author, The Frugal Editor helps you present whistle-clean copy from a one-page cover letter to your entire manuscript that will convince those with the power to say "yea" or "nay" to your precious book.
Paperback and hardcover editions are also available.
Special Combo Offer from the Publisher
Publisher Modern History Press has a special combo offer when you order direct. Buy the paperback edition of The Frugal Editor with Diana Raab's Writing for Bliss and save $14.

Writing for Bliss is most fundamentally about reflection, truth, and freedom. With techniques and prompts for both the seasoned and novice writer, it will lead you to tap into your creativity through storytelling and poetry, examine how life-changing experiences can inspire writing, pursue self-examination and self-discovery through the written word, and understand how published writers have been transformed by writing.
Testimonials for The Frugal Editor


"Writers and editors have a true friend in Carolyn Howard-Johnson. Her word smarts, her publishing savvy, and her sincere commitment to authors and editors make The Frugal Editor a must-have resource."
—June Casagrande, author of The Best Punctuation Book, Periodand Grammar Snobs Are Great Big Meanies (Penguin) and syndicated grammar columnist

"Previous editions of The Frugal Editor were excellent. Nothing could be better...except this book which has an additional 50% new content. The publishing world changes quickly, and this text allows writers to keep up with the ever-changing world of editors, publicists, finicky agents, trends, cultural expectations, queries, and media kits...exploding grammar myths and possible scams. Save yourself time and money by learning from the best, Howard-Johnson."
—Carolyn Wilhelm, BA, MA, MS and author of environmental content

"Carolyn Howard-Johnson is a godsend for writers everywhere. Her new book, The Frugal Editor, is part reference guide, part do-it-yourself editing manual, part masterclass on the writing and publishing industry...and all with Carolyn's signature humor and encouraging energy! She is a master at simplifying overwhelming tasks into relevant, can-do information. This book is a must for every writer's bookshelf!"
—Dallas Woodburn, book coach and best-selling author of Thanks, Cariss, for Ruining my Life

"I am using The Frugal Editor to polish my next book. I've used it for the first edit, the beta edit, and...I'm ready to snuff out excess words. Your tip about adding spaces with the search and replace tool is a timely add to my editing skills. It was easy to weed out abbreviations like AR for Arkansas one of my clients used with the (space)AR(space) feature."
—Elizabeth Seckman, editor of Insecure Writers Group newsletter

"In the third edition of The Frugal Editor, Carolyn Howard-Johnson helps authors obtain a finished product worthy of Simon and Schuster. The book guides readers through evolving changes in the English language that has no governing academy regulating it."
—Helen Dunn Frame shares her secrets for Retiring in Costa Rica or Doctors, Dogs and Pura Vida and other books

"Use basic computer and editing tricks from The Frugal Editor to prevent headaches, to save time—and even money. It's well worth your effort to learn them."
—Barbara McNichol, Barbara McNichol Editorial

"...An important new section deals with using your friends, family, or writing circle as readers [beta readers]. Your book is your baby, but it may have content or pace that make it a loser when other people read it. Once you're sure you have a good product and have done all the recommended editing yourself, it's time to think about a professional editor. The book does an excellent job of showing what a professional can do for your manuscript."
—Nancy Famolari, author of the Montbleu Mysteries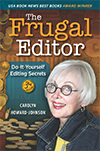 About the Author
Carolyn Howard-Johnson has been an instructor for UCLA's world-renowned Writers' Program for nearly a decade, a columnist and staff writer for the Salt Lake Tribune and the Pasadena Star News, and has appeared on hundreds of TV and radio stations nationally and locally. As a publicist for the Eleanor Lambert Agency in New York, she took part in the creation of the first "10 Best Dressed List" with Christian Dior.

Carolyn was honored as the California Legislature's Woman of the Year in Arts and Entertainment, received her community's Character and Ethics award for promoting tolerance with her writing, and was named to Pasadena Weekly's list of "San Gabriel Valley women who make life happen". She presents at writers' conferences nationwide. Her own writing as a novelist and poet has informed the advice she gives to authors regarding sales and genre. View her many offerings for writers on her website.
Sponsored messages help Winning Writers provide its services to you at no charge. We never share your email address with third parties. If your organization would like to send a sponsored message, please contact adam@winningwriters.com.

© 2001-2023 Winning Writers. All rights reserved except for fair use.

Winning Writers
351 Pleasant Street Suite B PMB 222
Northampton, MA 01060-3998
MORE ABOUT THE BLOGGER MORE ABOUT THE BLOGGER
Carolyn Howard-Johnson is the multi award-winning author of fiction, creative nonfiction, and poetry. She is also a marketing consultant, editor, and author of the multi award-winning #HowToDoItFrugally Series of books for writers including "The Frugal Book Promoter" (https://bit.ly/FrugalBookPromoIII), now offered in its third edition by Modern History Press. Others in that series are "How to Get Great Book Reviews Frugally and Ethically," "The Frugal Editor" and two booklets, both in their second editions also from Modern History Press. The booklets, "Great Little Last Minute Editing Tips for Writers" (https://bit.ly/LastMinuteEditsII) and "Great First Impression Book Proposals" (https://bit.ly/BookProposalsII) are career boosters in mini doses and both make ideal thank you gifts for authors. The one on writing book proposals is also available as an Audio Book. "The Frugal Editor "(https://tinyurl.com/TheFrugalEditor), was recently released in its third edition. It is the winningest book in this series for writers.
Carolyn also has three frugal books for retailers including one she encourages authors to read because it helps them understand what is needed to convince retailers to host their workshops, presentations, and signings. It is "A Retailer's Guide to Frugal In-Store Promotions: How To Increase Profits and Spit in the Eyes of Economic Downturns with Thrifty Events and Sales Techniques" (https://bit.ly/RetailersGuide).
In addition to this blog, Carolyn helps writers extend the exposure of their favorite reviews at https://TheNewBookReview.blogspot.com. She also blogs all things editing--grammar, formatting and more--at "The Frugal, Smart, and Tuned-In Editor" (https://TheFrugalEditor.blogspot.com). Learn more and follow for news on her new releases directly from Amazon at https://bit.ly/CarolynsAmznProfile.